Welcome to September! And what a fine first day it was. Equity markets globally finished higher, led by tech stocks and emerging markets. European equities barely edged into the green right at the end of the day, but all other indices were firmly green.
This brings emerging markets equities positive for the year to date, joining US stocks, leaving just those pesky European stocks as negative performers for the year.
Though it is obvious from the chart, I'll say it anyway; how about those tech stocks! What COVID crisis you might ask? Even the broader large cap index is up about 10% for the year.
Now, it should be noted that these gains are on the back of some pretty horrendous year-over-year earnings growth numbers (graph links to whole report).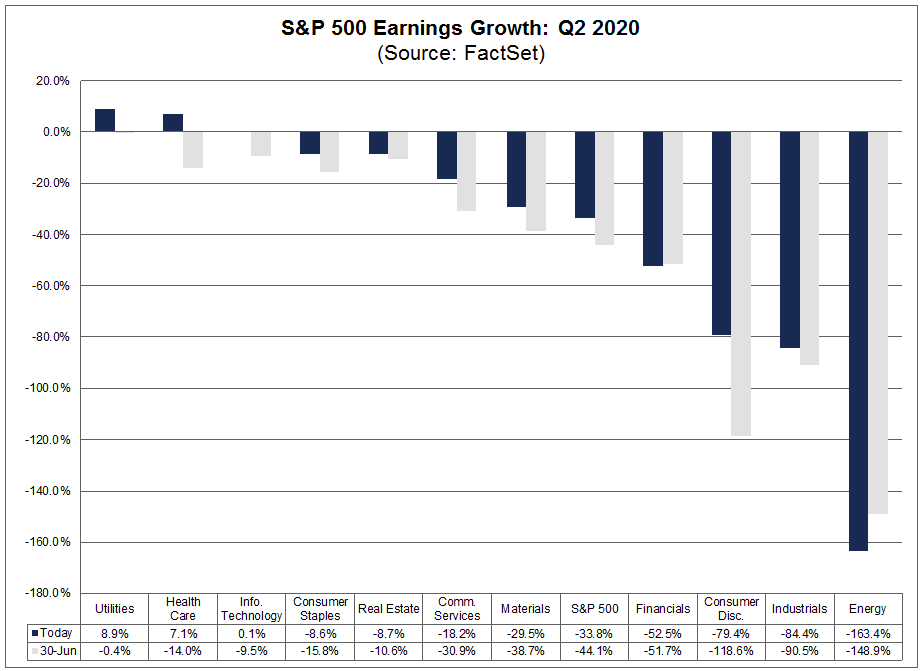 These dismal numbers are combined with continuing poor numbers in the job sector, making me wonder about how the veracity of the rally we have seen. There is no doubt that the COVID crisis has materially helped some companies jump-start their growth, but I'd wager that most companies continue to see downside pressure from the crisis.
On the fixed income side, all major debt areas saw positive returns today, led by longer dated and lower quality (yes that most often includes you Emerging Markets debt) issues.
For the year to date, as we begin the last month of Q3, lower quality debt is still treading water with returns right around 0%, while aggregate US and European bonds have enjoined decent years. Our outlier, which has been the case all year, is longer dated debt, which has outperformed everything else in the debt space.
Given the Fed's new stance towards interest rates, we could be seeing lower rates for an extended period of time. This, in some ways, is not a real revelation as current financial and economic conditions made rate increases a pipe dream. It will be interesting to see if the Fed stands by these ideas as economies begin to recover in earnest.
Starting tomorrow we'll be back with interesting things to read, and we are working on more analysis on the ESG space for your consumption.
Until tomorrow,
Nathan